About Us
We are a small kennel situated in Wiltshire, UK and our Shelties are all house pets.
Denise & Stuart Gruszka have owned Shelties for over 40 years. We have been actively exhibiting our dogs since 1990 and started breeding in 1996. Stuart awards CCs in the Breed and has judged in Norway & Finland. He is Vice Chairman of the English Shetland Sheepdog Club, having been on the committee since 2000 and Secretary from 2008 to 2012.
Our affix, SAMPHREY, comes from the name of a small island in the Shetlands.


Samphrey - photo: Jean Tuck (Craygill Shelties)
We strive to achieve true Sheltie type in all three colours and, above all, excellent temperaments.

Almost all of our show dogs have qualified for Crufts on at least one occasion as well as winning numerous Firsts, Best Puppy, Best of Breed and Group awards. We have won 11 KC Stud Book numbers, all but two being home bred.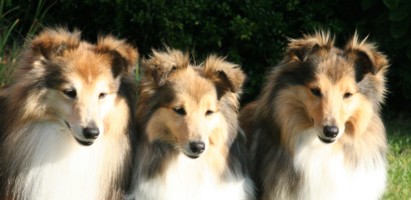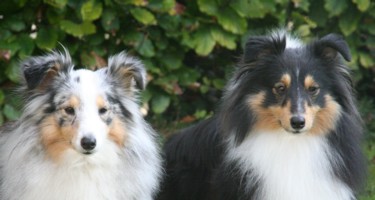 from Left to Right: Scott Fleur Pebbles Erin Ella

Our Shelties are tested for CEA at 6 weeks. Scott & George were successful stud dogs. Ross has had all the DNA health tests and is clear of all hereditary desfects.
As well as our success in the show ring, a number of Samphrey Shelties have had success in agility and obedience as a result of the skill and dedication of their owners and handlers.
Katy & Ella were registered PAT (Pets As Therapy) Dogs. Samphrey Maid At School (Jett), who lived in Colorado, USA was a trained Autistic Service Dog. Ella & Erin both passed their KC Good Citizen Bronze Award.
Website & Photos © Stuart Gruszka, 2010-2022